Our heroes
That the station building has appeal we knew. But so much attraction that friends, girlfriends, family, former colleagues and volunteers sacrifice their days off and vacations to come and help us? We are so pleasantly surprised. How wonderful, heartwarming and almost unbelievable, right?
The volunteers get in touch with us through the online platform WorkAway.info. They help us for 5 hours a day, in exchange for food, drinks, a place to sleep, outings and lots of fun. We have had volunteers from Italy, Ecuador, Chile, Ireland, Lithuania, Germany, Poland, Spain, Australia, Argentina, France, USA, China, Wales, Canada, England, Albania, Croatia and the Netherlands. Isn't that super?
Without these heroes, we would not have been as far as we are today. That is why we are putting them in the spotlight with this gallery of honor.
Would you also like to help us and travel with us on our adventure in Ballenstedt? Of course we will provide a place to sleep, food and drink, fun and a unique experience.
Brother/brother-in-law and sister-in-law. How much they have helped already. They have sacrificed many days off and vacations to help us. Doesn't that make you quiet and warm? The picture shows them showered and dressed in clean clothes, but when they are working, they are often unrecognizable through the dust. We think it is super that they enjoy watching our adventure up close. They are not just heroes, but they are our superheroes!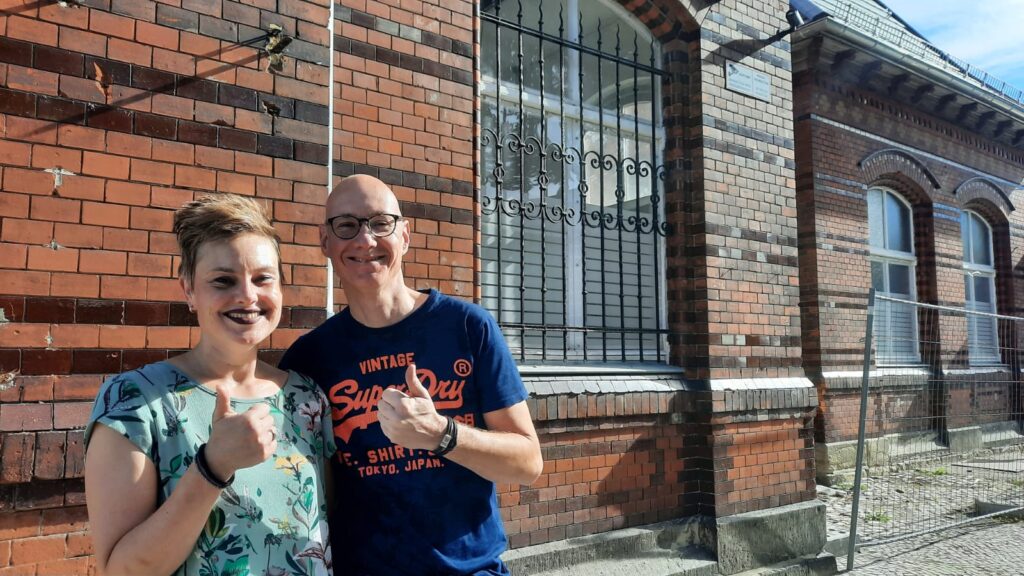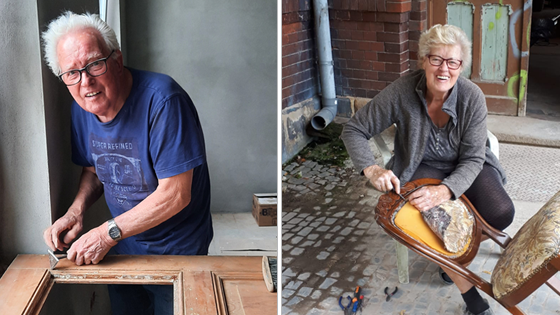 Ingrid's parents may be of a respectable age (85 and 80!), but they are still vital and happy to help out. By now they have been in Ballenstedt for many weeks. Staats has painted a lot of window frames and doors tightly. You can tell he used to be a painter. Nelly made sure the station was clean and tidy. They have already sanded, varnished and upholstered many chairs at home. Great to have them join us and help make our dream come true.

Canadian Arielle, who lives in Essen, wanted to volunteer during the summer vacations. She contacted us through Workaway saying, "I am a quick learner, easy going and always willing to try new things. That naturally attracted us. She came to Ballenstedt, stayed for two weeks and then had to go back to work. She did a great job, painting doors, helping in the garden and cleaning up. We loved having her with us.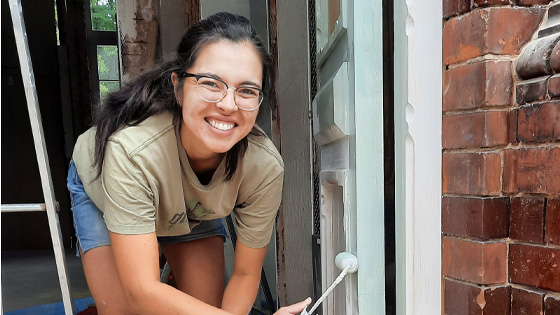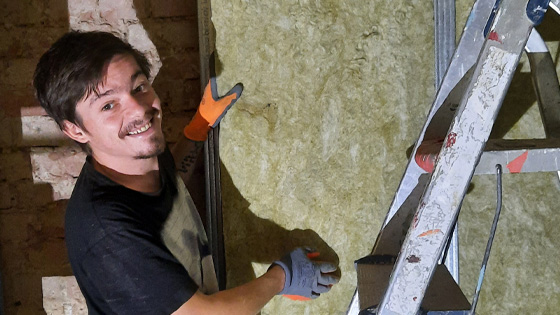 Daniel had been traveling for two years, one of which he lived in Egypt. In the hot Egyptian summer, he sought refreshment and came to Ballenstedt. For fourteen days he helped with all kinds of useful work. Then he traveled back to Egypt.
Samy, Lucas, Adrien & Isaure (France)
After Arthur, we got more help from France. Sammy, Lucas and Adrien helped us for almost 2 months. Adrien's friend Isaure came over for 2 weeks. It was a pleasant and busy lot at the station and in the house. In the beginning they were a bit clumsy, but over time they became more and more handy. They cleaned up, bricked, sanded, painted, carpentered and drilled.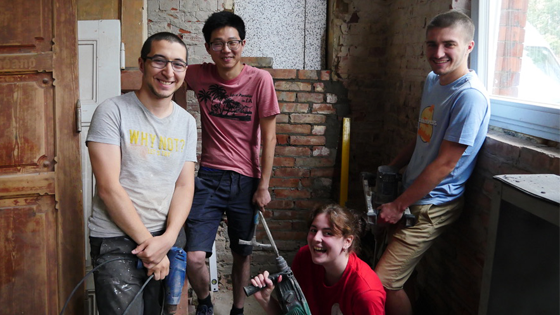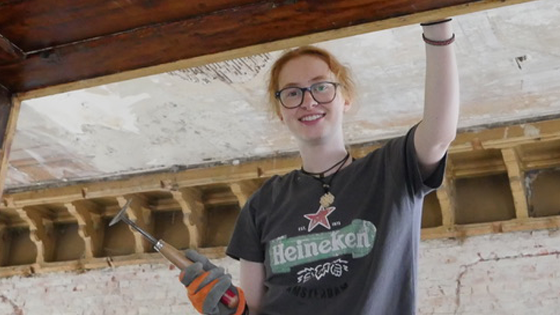 Student Sylvie from Glasgow was looking for a place for the summer to learn new skills. Well, of course she could do that with us. With a 9-euro ticket, she came to us by train. A week and a half she stayed and finished a doorframe from start to finish. The result turned out beautifully. She is half Dutch and knew sprinkles, stroopwafels and pancakes. Also with Sylvie it was pleasant and the days flew by.
Senada (Albania) & Sacha (Croatia)
"Senada is a professional artist and restores murals of old buildings. We also work in our spare time as decorative painters," which piqued our interest in Senada and Sacha's WorkAway profile. They booked a ticket to Ballenstedt, brought lots of fun and beautifully restored the text above the ticket counter and 'Schlossbahnhof Ballenstedt' on the side wall. Too bad they could only stay for 2 weeks, hopefully we will see them again. See you soon!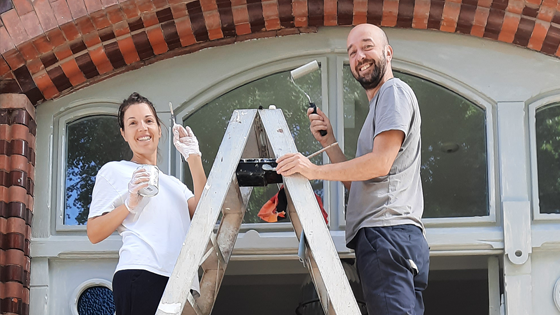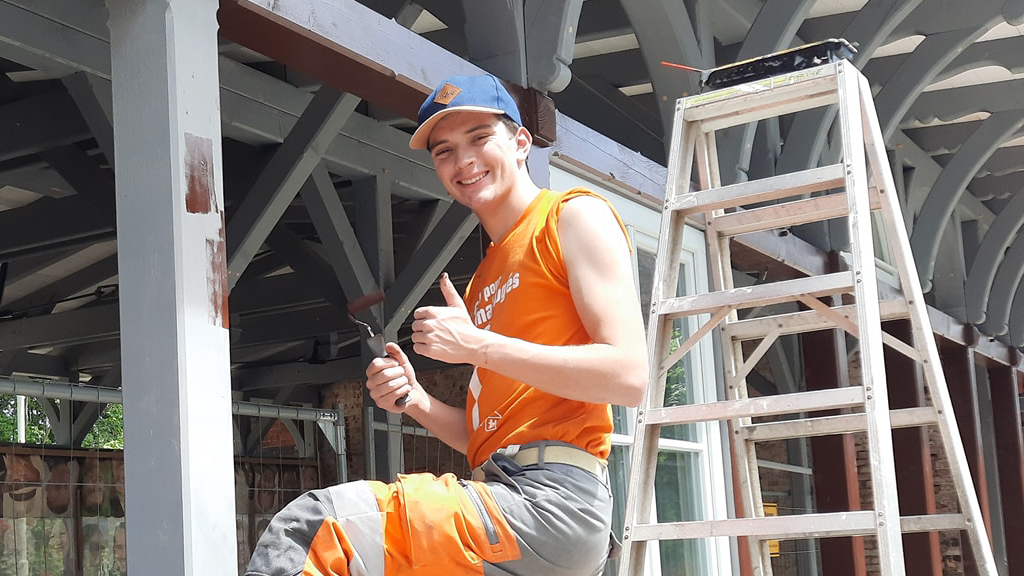 Arthur had to work abroad from school for 2 months. The choice fell on Ballenstedt for 4 weeks and we have been very happy with that. Arthur helped us super, always recognizable in his orange work clothes. He sanded and painted the center section, built walls, helped with the station clock and much more. Wow. They were fun weeks and we are super grateful for his tremendous help, sociability and jokes.
Edward's former colleague Jo got in touch last year. Whether she could also come to our place to help. Of course she could. In July, Jo put her money where her mouth was and came to Ballenstedt. She helped us very well with sanding and painting doors and window frames and much more. Together with Jo and Arthur, we rode the steam train for the first time, which was great fun. The week flew by. Until next time Jo!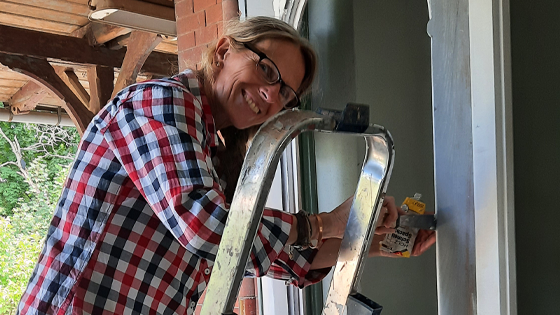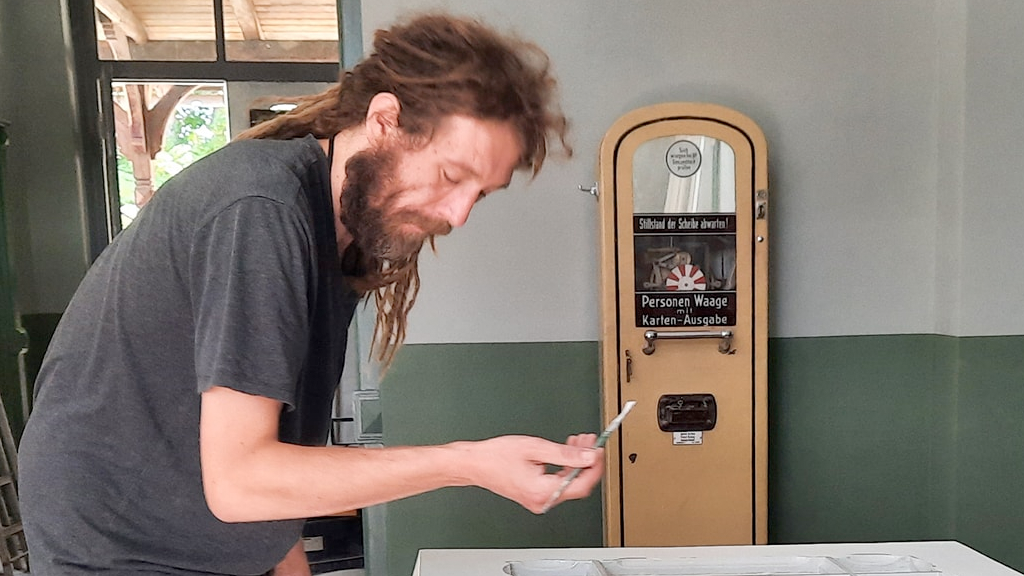 Bernard was stranded in Quedlinburg with his motorhome and brake problems. He called us if he could stay with us and help. Of course he could. Those 2 weeks flew by. It was fun with Bernhard (and Arthur who was also there) and he painted a lot of doors. When the camper was fixed again, Bernard said goodbye and set off again into the wide world, on his way to new adventures and destinations unknown.
Rosa had the following in her WorkAway profile: "four things in which I consider myself a pro: overthinking, frugality, tiramisù, and strong sense of aesthetics." That naturally attracted us (and not just because of the tiramisù, which, by the way, tasted excellent). She helped us considerably for 4 weeks. She was very precise, scratching and sanding doors with extreme precision. Rosa has an eye for design, is sociable and funny. It was a fun time with her.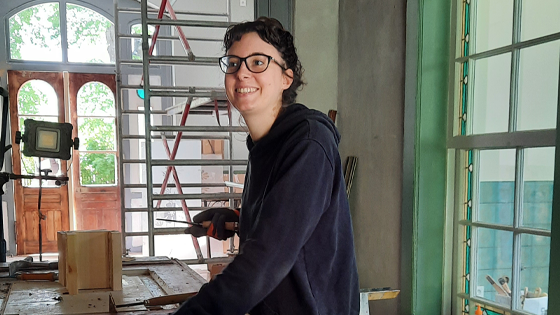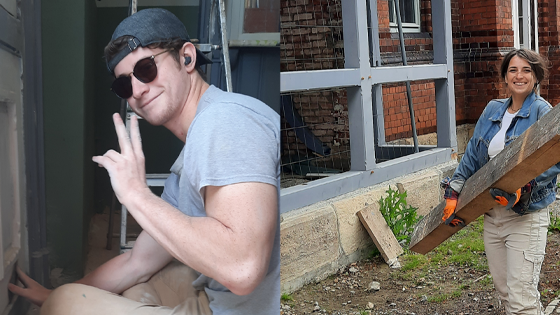 Aiden and Joni had a month of summer vacation and wanted to travel to Europe. They contacted us through WorkAway. Whether they were welcome in Ballenstedt. Of course they were. They gave us a good few weeks of painting, chopping and hauling. Joni had been doing strength sports and stood her ground! It was a shame that the vacation was over so soon and they had to fly back.
Tori had flown across the Atlantic in her school vacation to help us for two weeks. Traveling 6,500 kilometers to be in Ballenstedt and with us, that's special, isn't it? Together with Blandine, she formed the paint scraping team. Tori did not shy away from being high up on the ladder with the paint torch. With Skip-Bo, she was a formidable opponent. It was a fun time together with Blandine and Rosa, who were also there.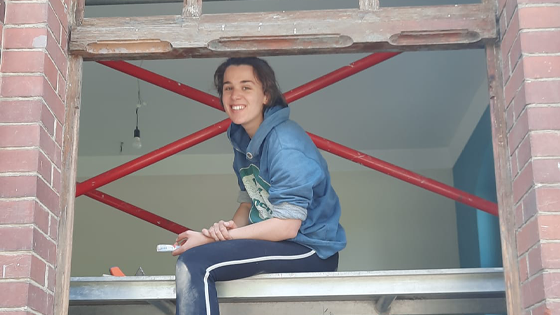 For Blandine, the adventure in Ballenstedt was her first WorkAway experience. She helped us for 2 weeks. Paint on doors and window frames was not safe when she was working with the torch and putty knife. Regularly in the evenings the Skip-bo cards came on the table, with Blandine playing fanatically. Time flew by and that was a good sign. Until next time!

Ingrid is the wife of a former colleague of Edward's. She has a passion for making and restoring stained glass and wanted to help us. Of course we didn't say no to that. She made beautiful stained glass for the luggage hatch and lovingly restored an old-style skylight for the station hall. How happy we are about that. Ingrid continues to help, as we have more stained glass to go.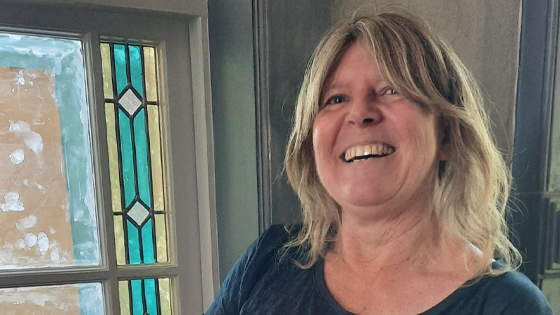 Jacob & Eltina (Netherlands)
Jacob and Eltina are fulfilling their dream of exploring Europe with a motorhome. They already had Sweden and Norway on the agenda, but 2 weeks of Ballenstedt could just get there before that. What hard workers they were. That was of course very nice. In addition, they were also very sociable. How much laughter and fun we had together. We miss them. They promised to come back, so we will hold them to that.
Max (Wales) en Maggie (China)
Max from Wales and Maggie from China have been with us for over 10 weeks since early January. They have done a lot of sanding, painting and cleaning up. In the evening, the playing cards came up regularly. We were hooked on the game Skip-Bo. Maggie occasionally cooked authentic Chinese food, which was very tasty. They stay near Ballenstedt because they bought a cottage in the Südharz, where they now live.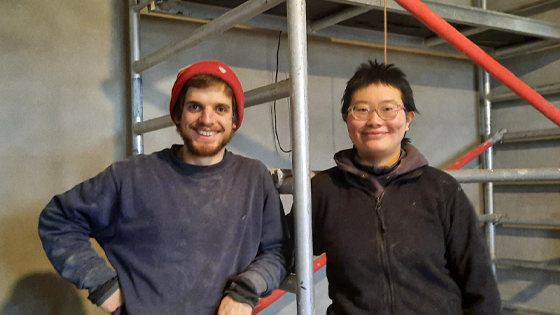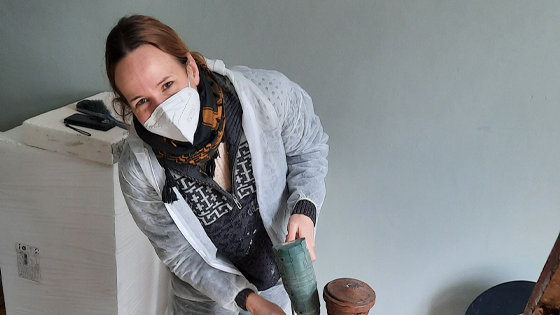 Julia from Berlin wanted something different in her vacation and found us on WorkAway. She wanted to help out for over a week and we didn't say no. She has been busy sanding the stairs. It was also nice for us to talk a lot of German, because we learn from it. It was a nice week with Julia and we hope to see her again in Ballenstedt.
Vanessa (Italy) & Theepan (Sri Lanka)
Vanessa and Theepan wanted to explore the world and left with their backpacks from Italy to Ballenstedt for their first adventure. They helped us wonderfully for two weeks with sanding and painting. Together with Max and Maggie it was a cozy mess in the house. Of course, Vanessa gave us a taste of what a real Italian pizza should taste like. They wanted to stay longer, but got an offer on the Spanish coast that they (understandably) could not refuse.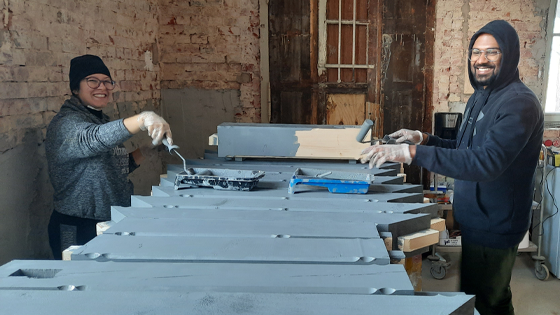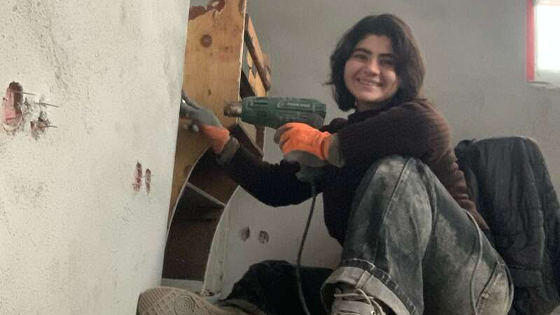 Ladessa has been with us for the last few weeks of 2021. She is Canadian with Italian roots. Where Estefania started scraping and burning down doors and window frames that year, Ladessa continued with that. Besides Ballenstedt, she was able to explore Amsterdam, Utrecht and Ermelo when we had to go to the Netherlands for school and work. Her Italian-style pizza and chicken tasted excellent. 
Ireland was also represented in Ballenstedt. Steph helped us for a few weeks. Steph did not turn a hand to laying underfloor heating and insulating the Fürstenbahnhof. Very helpful. The homemade scones (with jam and whipped cream) were delicious. It is unfortunate that Steph had to go home earlier to get ahead of more severe coronagraphs. We miss the conviviality and deep conversations.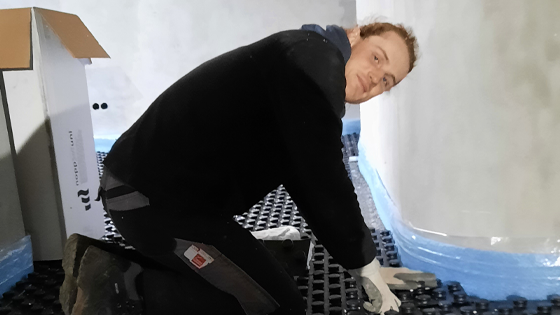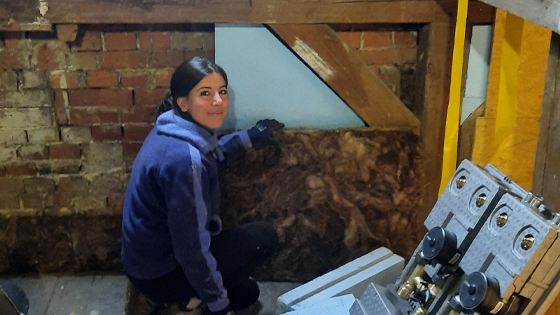 Marta from Italy also came in contact with us through WorkAway. She was with us at the same time as Steph and together they had superpower. When she had her all over the place she stood her ground. She helped with the floor heating insulating the top floor of the Fürstenbahnhof. We were very happy with that. Of course, she also cooked real pasta for us. Italians can do that like the best.

May we present to you: Justin. He is Australian, has been traveling around the world for 7 years, has visited more than 60 countries and more cities, but Ballenstedt was still missing from his bucket list. For stucco chipping and bricklaying walls he did not turn his hand away. This Aussie was a great help and also very sociable. His early morning room service with a cup of coffee was much appreciated by Edward.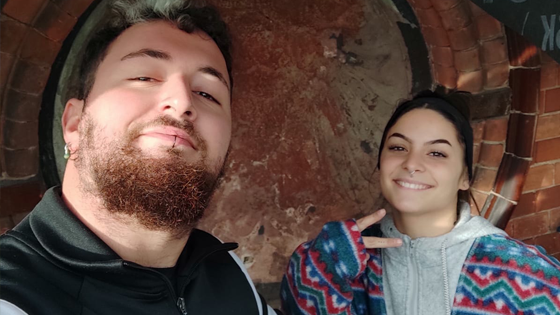 Spanish friends Claudia & Jesus are going to study in Leipzig and wanted to work somewhere in Germany before then via workaway.info. Bahnhof Ballenstedt-West is then of course the place-to-be. They helped us tremendously with sanding and painting the woodwork at the Fürstenbahnhof. Jesus is also a cook and also cooked delicious meals for us. Too bad they found an apartment in Leipzig so soon.

Edward's former colleague Douwe was curious about the station building and offered to help out for a few days. Of course we didn't say no to that. It was great to catch up after all these years. It was good that Douwe has two right hands, which we gratefully used. It wasn't just one visit, because Douwe came back to help for a few days again. Super, isn't it?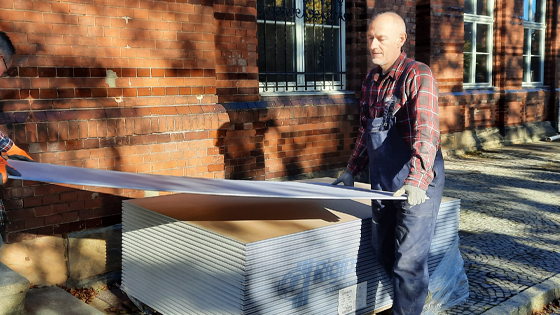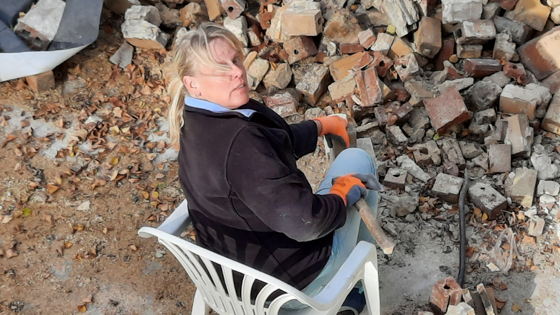 Ingrid's sister Jolanda also wanted to join us in Ballenstedt. When husband René and son Sven left for Normandy for a week, she seized her chance. The week flew by and she helped us a lot with chipping stones and sanding the stairs. How happy we are with that. In addition, it was of course very pleasant to have Jolanda with us for a week.
Harry, like Edward, was a writer for the VinExpress, the neighborhood newspaper of the Stadshagen district of Zwolle. He is a loyal follower of ours and still wanted to see the station for himself with his own eyes. Harry bought a train ticket Ballenstedt and was with us for a few days. It didn't just stop at looking, he chipped stones and wrote a nice blog about his mini-adventure in Ballenstedt.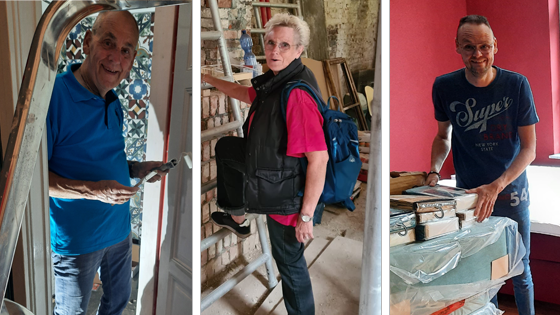 Just before the opening and filming of "Ik Vertrek", Karmen's father, mother and brother joined the helpers for a few days. André, Wilma and Ivo did a lot of painting, cleaning and tidying up. Both apartments looked tiptop when they left. It was very nice and cozy to have had them in Ballenstedt for a few days. Until next time!
Enthused by sister Mieke, Geert called. He had one week left before he started work at a new employer and was eager to help us. A few days later he was already in Ballenstedt. It was super to get to know Geert and his were very happy with his help.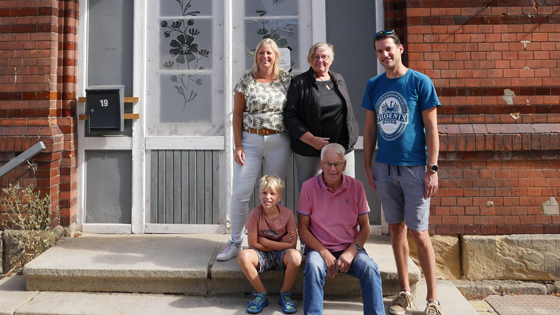 Joop, Boukje, Riëtte, Sander & Fedde
Joop, Boukje, Riëtte, Sander and Fedde spent more than a week of their vacation with us. For Riëtte, Sander and Fedde, it was already the second time. The picture shows them relaxing, but they have been working hard. Window sills were installed, the paint on the stairs was scraped off, walls were papered and much more. Fedde also stood his ground. What a fantastic help we had from them. And of course, it was great fun again!
Huh? Is it a mistake that Henro is in the gallery of honor twice? No way, Henro just went twice. Well, "just"? He has helped us wonderfully again. There are many drops of Henro's sweat again in the station building. How fantastic isn't it? And that while Henro was getting married right after that. Henro and Sylvia, congratulations!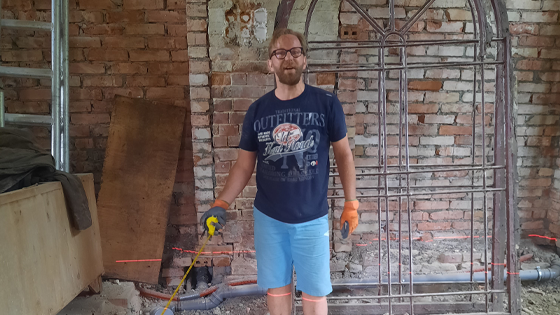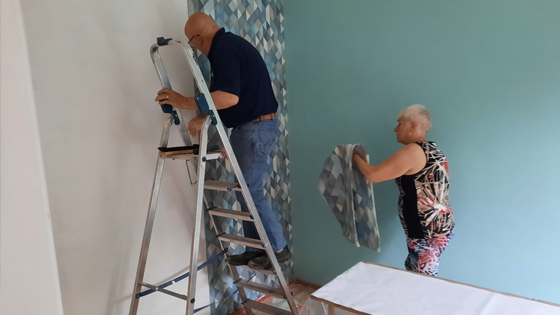 On their way back from their vacation, family Joop and Hennie visited Ballenstedt for a few days. They came not only to explore the area, but also to help out. They did a great job helping us wallpaper some walls. Their patience and perseverance was to be commended, as the walls were not perfect for wallpapering so the wallpaper occasionally came back down.
Johannes, a faithful follower from Hamburg, emailed us that he would like to come and help out for a few days. He put his money where his mouth was and took the train and bus to Ballenstedt, stop Alter Westbahnhof. Johannes helped us with paving, clearing, milling and much more. We had great days and loved getting to know Johannes better. See you soon, Johannes!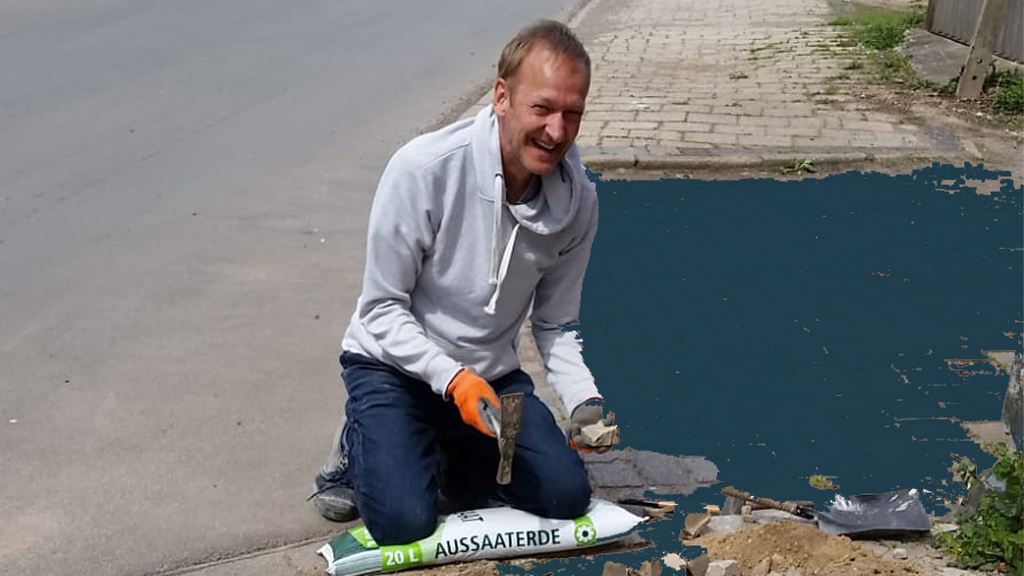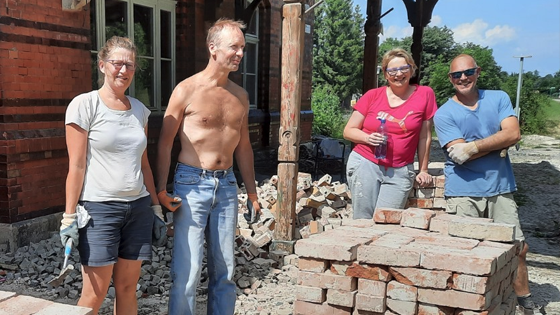 Fred, Mieke, Inger en Edwin
Friends Fred and Mieke had brought their friends Inger and Edwin with them to Ballenstedt. How nice it was to see them again and what great help we had. Wooden floor boards were lugged to the 2nd floor, the saw table was brought back down through the window and many, many stones were chipped. They left a lot of sweat with us.

Aunt Marwil and Uncle Kees naturally wanted to see the station and Ballenstedt in real life. They came over for a few days to watch, but also to help. Marwil helped with cleanup and all sorts of hand-and-tie duties. Kees threw himself into painting ceilings and leveling floors in two bathrooms. It was super nice that they were with us for several days. Until next time!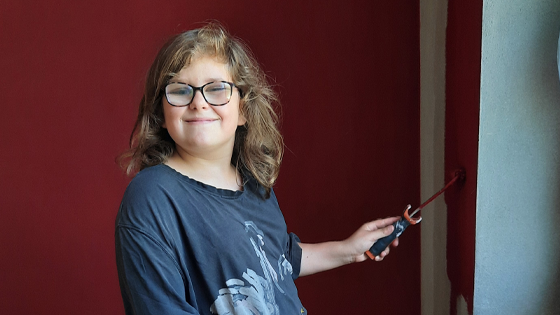 Alexia is our youngest volunteer. She lived near the station, came to see with her parents and wanted to help. Of course we didn't say no to that. No sooner said than done. Alexia did a great job helping us paint a wall. The paint job looked great. We thought it was great that she helped. Until next time, Alexia.
Hey, do we see Hans in the gallery of honor twice as well? Jazekers. Hans had been with his son last year and Ballenstedt continued to tantalize. This time he visited with his wife Caroline. During the day he was tough with a jackhammer chipping away at stucco in the Fürstenbahnhof and in the evening he was tough making double schnitzels. Caroline was of the finer stuff and helped with painting. It was fun again! See you again soon.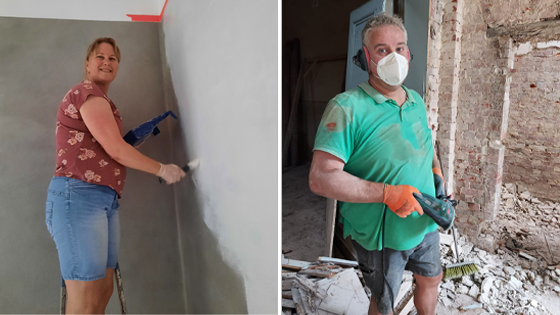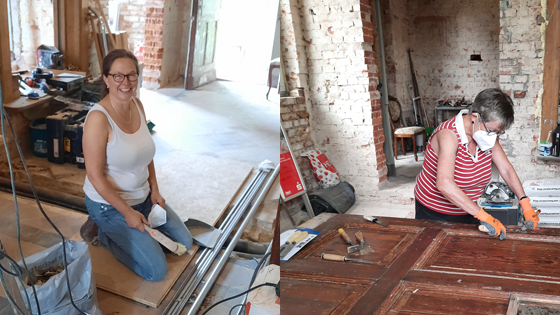 Cousin Monique and her friend came over from Belgium for a week. Working hard at the station during the day and otherwise chatting, having fun and exploring the area. Rein taught us that cherries with a white-yellow underside are called white bellies. During a hike to the Gegenstein we feasted on these white-bellied cherries and "normal" cherries. Monique and Rein, see you soon!
Margot also got in touch with us through www.workaway.info. She is Dutch, has lived in Berlin for 5 years and has a passion for historic buildings. Our station got her excited. She bought work overalls and a train ticket and came to Ballenstedt in early April. Fresh and energetic, she was busy with drywall, trowel and cement during the day. In the evening, we sat together on the couch watching "Falling in Love with Your Home Again" and "Building Your Dream: The Wylde Path.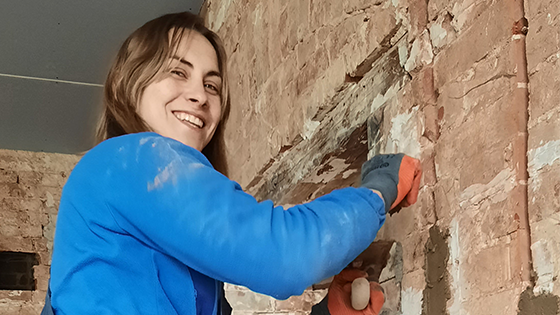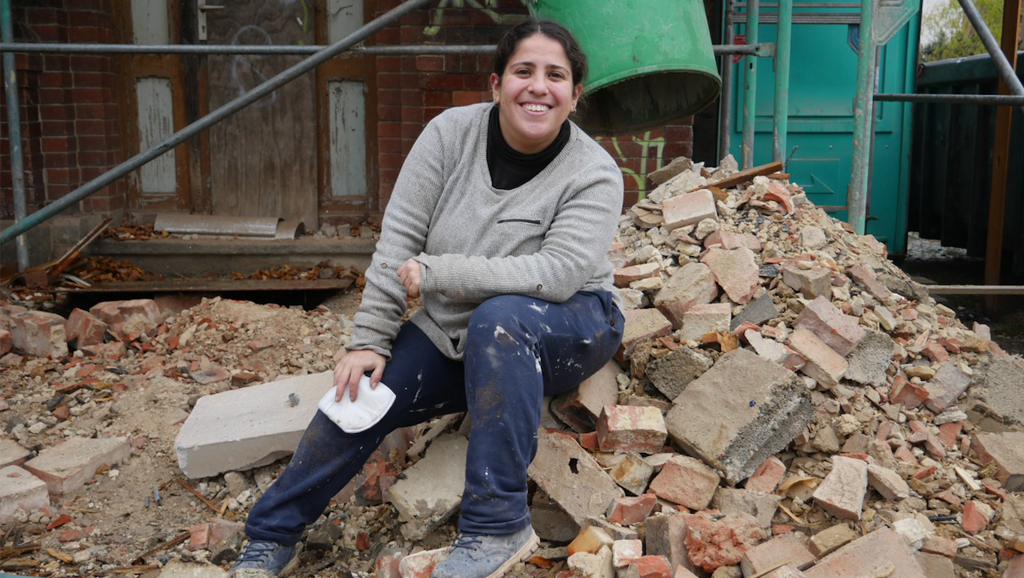 Energetic, singing all day and a wide smile. Estefania from Argentina got in touch with us through www.workaway.info and planned to help us for a few weeks in December. Those few weeks turned into almost 5 months. She scraped a lot of paint off doors and window frames. What fun we had and did a lot together. We miss you, Estefi! But …. she has promised to come back again.
Chilean friend of Estefania, stayed in Heidelberg, got bored and took a return trip to Ballenstedt for a week. She braved -15 degrees to help us clean up and burn off paint from doors. It turned into a fun week of hard work and lazy evenings watching Netflix on the couch with popcorn. Nati, when you come back in the summer we will go on fun day trips!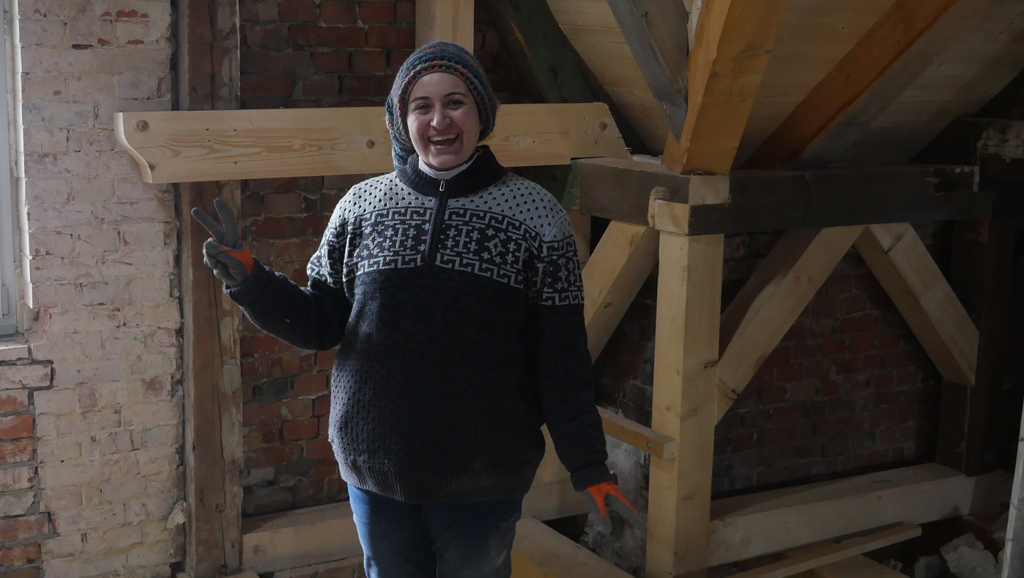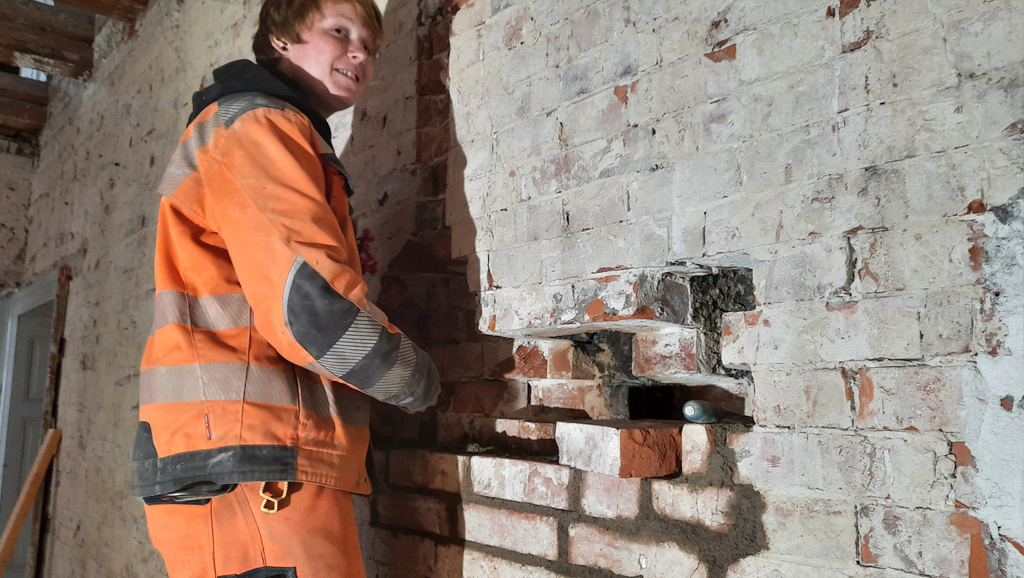 Jacqueline lives a few villages away from Ballenstedt. At our open house she got excited about the station building and wanted to help. She is tough, is a volunteer firefighter and works in construction. So she stands her ground. It's great that she helps us in her spare hours with masonry and construction.
In the picture they are relaxed, but their muscles still hurt after 1.5 days of chipping, breaking down walls and clearing debris. Fedde stood his ground and was sorry to have to stop. Very nice and special that they helped us. Toppers! P.S. Of course we are also there for them when they move.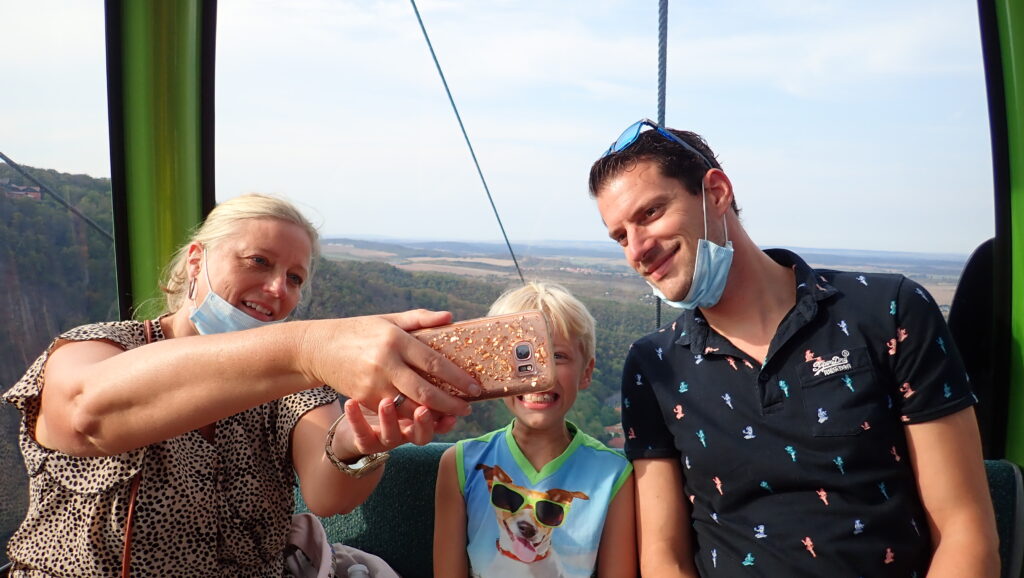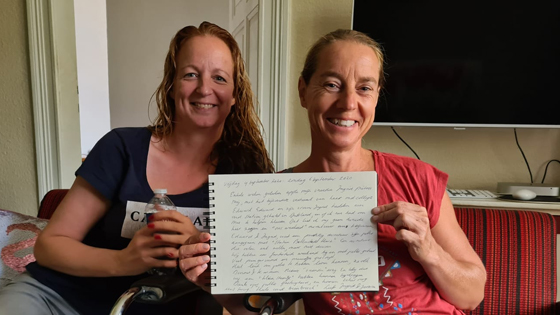 Edward knows Ingrid from an assignment with the police. A cup of coffee to catch up had not been possible in the last year, so Ingrid came to Ballenstedt. Friend Jessica spontaneously came along without knowing us. Isn't that cool? How hard the ladies worked. Stones and debris were removed at a fast pace. The 2nd floor was left neatly swept.
The ladies are in the majority in helping. Ingrid's friends Bea and Anja traveled from Groningen to Ballenstedt to help with the chores. They too worked like horses. Dust cap on and go. The number of wheelbarrows they carried away with wood and rubble cannot be counted. How nice to have such friends who just come and help out for a few days. Bea and Anja, thanks again!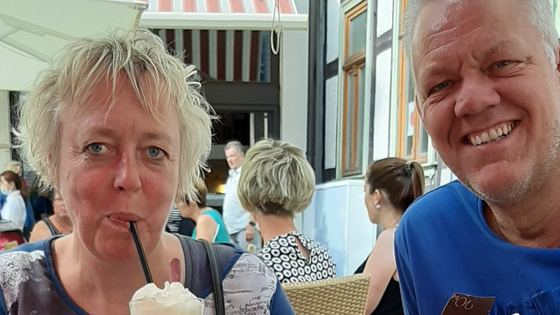 For almost 35 years Ton and Edward have known each other. Friends for life, always there for each other. This time Ton and Maritza for us. They helped us move our big stuff from Zwolle to Ballenstedt. Maritza helped clean up while Ton smashed some walls with a sledge hammer. Of course there was also time for ice cream in Quedlinburg. Great friends!
Comes from Ecuador, studies in Enschede and came in contact with us through the website workaway.info. He helped us for no less than 6 weeks. He did an incredible amount of hard work. Besides the hard work, we had fun outings and adventures together. We are very happy with his help and are glad we got to know him. See you soon Bryan!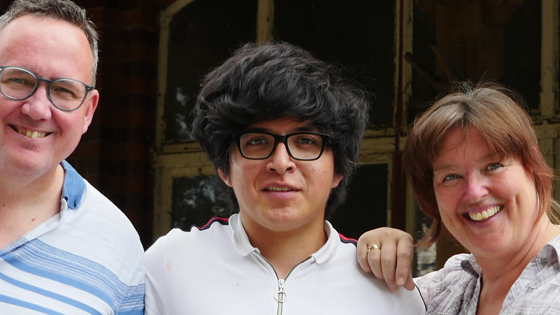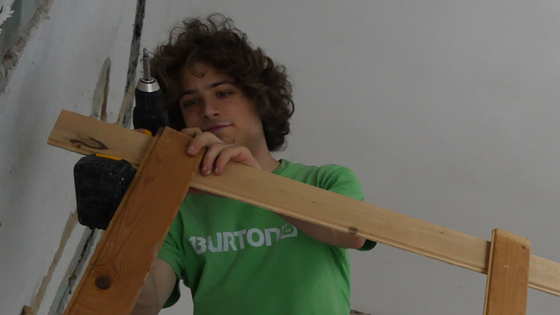 Straight from Italy, also via workaway.info. Our station building was high on his bucket list. For almost 3 weeks he helped us. With Bryan he formed a good duo. Well attuned to each other, debris was cleared. We also had a very good time with him. We will not soon forget the Italian meal he cooked for us on one of the last evenings. 
14 years ago, Edward and Henro last saw each other. Henro was a customer of Edward's. How special is it that Henro enthusiastically called and offered his help? What can already be seen in the photo, he worked up quite a sweat. He insisted on finishing his job with us and even spent a day longer than intended. How nice it was to catch up again, too. Class Henro!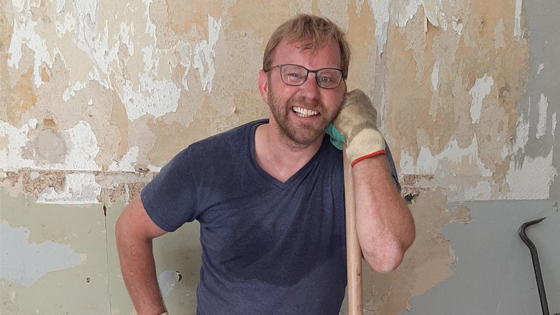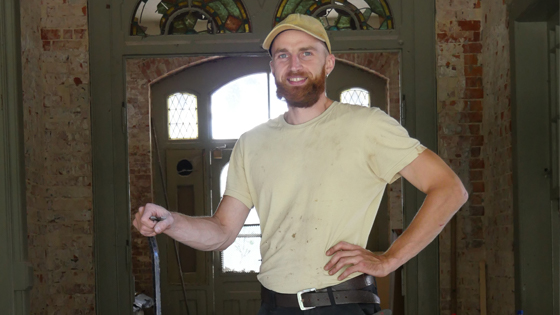 We also got in touch with Pavels through the website www.workaway.info. He is from Lithuania, but was already in Germany for another volunteer job. He helped us for a good week and also formed a good duo with Bryan. In the evenings he left his mark with (legal) graffiti. When we see his Woozy, we still have him fresh in our minds.
Business associate Hans called Edward: "I'm coming to help you with my son, and probably Paul will go with you." That quieted us, but of course we didn't let that offer slip. Hans and son Leon helped us remove the woodwork on the first floor so that the men of the fungus control could begin. What a lot they did. We were left in embarrassment!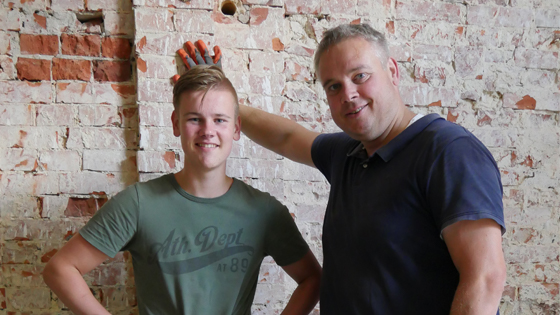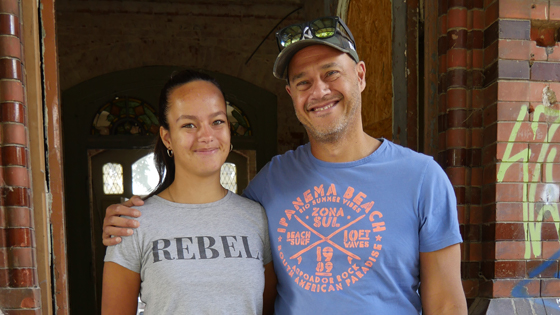 Paul, Pien, Hans and Leon were the volunteers of the first hour. How special that they sacrificed their free weekend to help us. Instead of a relaxing weekend, they were busy with demolition hammers and wheelbarrows. Together with Hans and Leon a lot of work was done. Of course there was also plenty of time for relaxation. Nice to get to know each other in such a way.